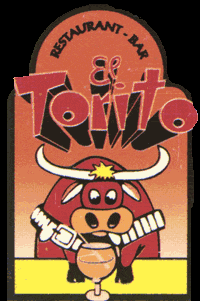 Home
Map to restaurant
Site design by
Excalibur Computer Corporation




---
While visiting Puerto Vallarta, why not treat yourself to the best sports bar in the city, El Torito!

Established in 1982, El Torito has become one of the leading restaurant bars in Puerto Vallarta. All televised professional games can be seen on their satellite TV's, conveniently located throughout the restaurant.

All sporting events are shown on the televisions, including football, baseball, hockey, basketball and boxing matches.

While enjoying a game, patrons are welcomed to the bar, and are encouraged to try the world famous BBQ ribs.

Whatever your reason for visiting Puerto Vallarta, be it vacation or business, El Torito will surely make your trip more enjoyable.
Visit us while on vacation in Puerto Vallarta!
Ignacio L. Vallarta #290, Puerto Vallarta, Jalisco, Mexico
Telephone (322) 2-3784, 3-2102, 3-0348, 2-6784
email: eltorito@acnet.net